Calvary Tabernacle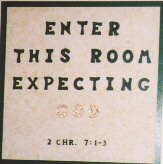 Well, here's basically the deal with the church I go to when I'm at home. Calvary Tabernacle is a nondenominational, full-gospel, and charismatic Christian church. I thank God for this church, as it has woken me up to the awesome reality of how huge and powerful God really is. The first time I attended, I came with my sister, Lori. It was all a little different. I was used to people clapping to the worship, but usually didn't see God's people freely worshipping through kneeling or dancing. And the tongues and prophecy was a bit new to me too. (Tongues related to baptism in the Holy Spirit)Oh, not to mention my sister went up for prayer and was soon lying flat on her back in the Almighty Presence of GOD. ;o) Yes, that was all a little strange. Yet I saw such love and honesty in the people there. And somehow I knew that these people truely desired God -- and that He in return was blessing them.
So... my parents were a little scared about this pentacostal/charismatic church their daughters were going to. You see, we grew up in a tremendously conservative church -- no TV, no radio, women were silent except for singing and wore hats and skirts. We went to public school but were not allowed to have birthday parties or go to friends' houses. Bad influences, you understand. Well, there have been many divisions in the church I grew up in (or wait, I cannot call it a "church", I forget why?). So many divisions have occurred that my family ended up all by ourselves meeting with Grandma in our own living room. Only my father would talk, though my brothers were allowed... Mind you, my parents have changed a lot through the years as well, but still meet in the living room ;o) Well, God knew what He was doing when He brought Lori to college for a year.
Through Campus Crusade for Christ, friends of friends, and other connections, my sister gradually came to know more and more Christians in the "outside world"... that is, outside of our exclusive "church". She started church-hopping a bit, and, when I was allowed, I joined her. Suddenly I got used to meeting new people, and thank God He placed us in Calvary Tabernacle when He did... I wanted to know some people already! But that does not end the story...
So my parents said, ok, you can go to church when Lori goes. Which was wonderful during the summer when she was home. The day I turned eighteen happened to be a Sunday, so I convinced one of my friends to come visit my church with me so that I could get there. Other than that, I could only get out to church when my sister was home.
That fall, I went off to college, and visits to Calvary Tabernacle became few and far between. But I won't forget the change that being there made in my life. The spiritual growth that occurred during my year or two at Calvary introduced new joy into my daily walk on earth. Praise be to God!