» Go To Previous Entry
Date: 6/6/04
Location: Pacific Orientation Course, Madang, Papua New Guinea
kunai
grass which brushed against people on the side benches.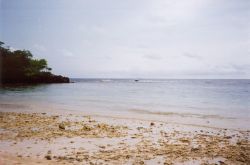 A small fishing boat offshore
The ocean was beautiful - shallow, warm, with very small waveswhere we were. Of course, warm water brings coral and all kinds of poisonous creatures, but only those who went pretty far out just got bitten up by some sealice. I feel good today - some jet lag still. I have my own dorm room with a connecting door to Julie and Kristin's room. There are some horse posters on the walls - even some Andalusians - my favorite breed!

I wish it was raining tonight, and I wish there was a way to lock my door from the
inside
. There is a security guard who comes around between 10pm and 6am, as well as two dogs. However, our POC leader mentioned there has been a schizophrenic around who comes to steal food now and then. I pray God will protect me and all of us. I also pray I can get to know the people here at POC better. I know that God is
faithful

Pictures: